Missouri S&T
Rolla, Missouri

Renovation

Founded in 1870

6908 sq. ft. site
Located inside the Havener Center, the main student hub on campus, the S&T Store could be in a prime location for success – however, in its current location, not a lot of people know it's tucked in a back corner – meaning there's not a lot of foot traffic. Our job was not only to renovate and update the design and finishes but also to look at ways to direct people from the main entrance near the food court, back into the S&T Store.
Playing off the ideas of "science and technology" our design team came up with a schematic design that shows a great mix of materials – glass, metal, wood, and stone – in a modern and high-tech way. We wanted all the visitors to feel they've come to a school of science and technology, an idea that's been lacking in the current S&T Store conditions. We also came up with the concept that the store extends down the connector hallway so that everyone coming through the main entrance, immediately sees the S&T Store and wants to follow the corridor down to check it out. We're really excited to continue to develop designs for this project.
Innovative, School Pride, Focused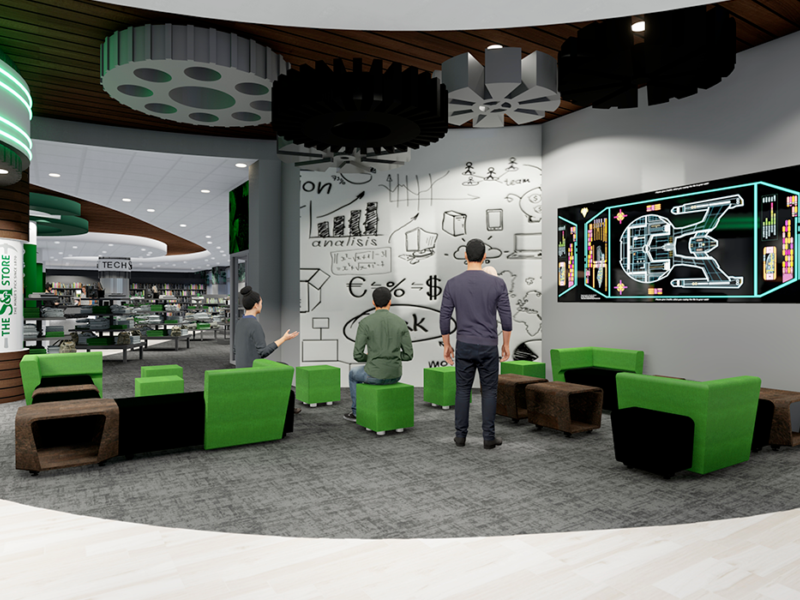 TDP Excelled in every aspect of design and presentation for our project. Their knowledge and creativity through all design phases and by all their staff members were seamless throughout the project. We would not hesitate to work with TDP again and look forward to the opportunity in the near future.
Pat Litty | Missouri S&T Project Manager
Let's talk about your project.